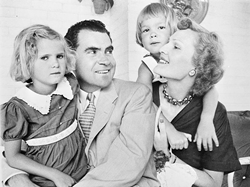 Senator and Mrs. Richard M. Nixon with daughters Tricia and Julie, July 28, 1952. Source: Library of Congress
"Nixon has gone through all kinds of revisionist cycles." – Brian Balogh
Charlottesville, VA January 26, 2019
BackStory, an American history podcast produced by Virginia Humanities, releases "Nixon Beyond Watergate: A History of the Presidency Before the Scandal."
Today the presidency of Richard Nixon is mostly remembered for how it ended – with the Watergate scandal, impeachment and resignation. But what about early Nixon, the man sworn into office in January 1969? On this episode, Nathan Connolly, Ed Ayers and Brian Balogh discover Nixon ran a more imaginative and ideologically flexible administration than its ignominious ending might suggest.
"Nixon made an issue of abortion, made an issue of pornography, made an issue of drug use," said Rutgers University professor David Greenberg. "He was trying to pit the average American, who he wanted in the Republican column, against the liberal elite, the university professors, the media and all of those people who were defined as alien and somehow vaguely, or not so vaguely, un-American."
Joining Connolly, Ayers and Balogh are J. Brooks Flippen, Matt Lassiter, Greenberg and Molly Michelmore.
Brooks Flippen is a professor of history at Southeastern Oklahoma State University and the author of "Nixon and the Environment."
Lassiter is the author of "The Silent Majority: Suburban Politics in the Sunbelt South" – winner of the 2007 Lillian Smith Award presented by the Southern Regional Council. He is a professor of history, urban and regional planning at University of Michigan.
Greenberg specializes in American political and cultural history. His book, "Nixon's Shadow: The History of an Image," won the Washington Monthly Annual Political Book Award, the American Journalism History Award, and Columbia University's Bancroft Dissertation Award. He is a professor at Rutgers University.
Michelmore teaches U.S. history as well as 20th century U.S. political, cultural and social history at Washington & Lee University. Her research areas include American political development and she's published in the Christian Science Monitor, The Richmond Times Dispatch and the Pittsburgh Post Gazette.
"Nixon Beyond Watergate: A History of the Presidency Before the Scandal," is available now. Find it and every episode of BackStory on the website (http://www.BackStoryRadio.org) or on popular podcatchers including iTunes, Spotify and Google. BackStory publishes every week at noon and is available for free.
About BackStory: BackStory brings historical perspective to the America of today. Each week, U.S. historians Ed Ayers, Brian Balogh, Joanne Freeman and Nathan Connolly look at current issues and trace them back to their roots in American history. From the days of the Early Republic to the 21st century, BackStory reveals the connections (and disconnections) between the past and the present. BackStory makes history accessible for listeners – not only in the United States, but around the globe.
BackStory is available for free on Apple Podcasts, Google Play, Spotify, Stitcher and other apps. Get new episodes delivered directly to your device by following BackStory on your preferred podcatcher. New to podcasts? Just search for BackStory (and look for the blue logo in the "Society and Culture" category) and then click "Subscribe."
About Virginia Humanities: Virginia Humanities connects people and ideas to explore the human experience and inspire cultural engagement. As the state humanities council, Virginia Humanities reaches millions in its estimated annual audience through festivals, grants, fellowships, digital initiatives, teacher institutes, radio programs, podcasts, apprenticeships, and school programs. Headquartered at the University of Virginia in Charlottesville, Virginia Humanities endeavors to serve Virginians in every corner of the Commonwealth. To learn more visit VirginiaHumanities.org.
Powered by WPeMatico