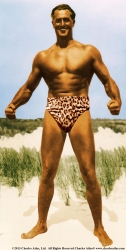 New York, NY, September 18, 2018 — Charles Atlas, Ltd. will start their 90th year in business on February 14, 2019.
The iconic company that Mr. Charles Atlas started with Mr. Charles P. Roman in 1929 is still alive today.
Charles Atlas, Ltd. is one of the oldest fitness companies still in existence today.
Charles Atlas, Ltd. can be found today on the Internet at www.charlesatlas.com as well as on social media through Facebook at https://www.facebook.com/charlesatlasltd/ and on Twitter at https://twitter.com/CharlesAtlasLtd.
Charles Atlas, Ltd. still sells the Classic Charles Atlas Bodybuilding course that was written by Charles Atlas himself. Charles Atlas, Ltd. has sold to over 40 million students worldwide in the 90 years the company has been in business.
"No one Picks on a Strongman" – Charles Atlas®. Charles Atlas, Ltd. stands for honor, integrity, health, fortitude and strength so anyone can protect themselves from being bullied.
"The Insult That Made A Man Out Of Mac®" cartoon has been used in the iconic Atlas advertisements, which has been seen worldwide, in comic books, magazines, books and newspapers since the inception of the company.
Charles Atlas, Ltd. has weathered two World Wars, seen markets crash, major weather events and been in business from the time of President Calvin Coolidge through President Trump.
Contact: Jeffrey C. Hogue President or Cynthia Soroka
Email: [email protected]
Phone: 1-888-672-8527
Fax: (201) 767-7705
Powered by WPeMatico