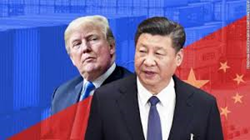 We have heard from a growing number of clients who have looked at a self-directed IRA as a way to better shelter their retirement portfolios from any potential market downturn as a result of a potentially prolonged trade war
NEW YORK July 26, 2018
IRA Financial Group & IRA Financial Trust Company, a leading financial technology self-directed IRA provider & custodian, has seen an increase in demand for self-directed IRAs largely as a result of a growing concern about a prolonged trade war amongst retirement account investors. Investors are fleeing U.S. stocks at a growing clip as the possibility of an extended trade dispute between the world's two largest economies. The flight of capital has seemingly coincided with the implementation of the first round of tariffs between the U.S. and China, as well as President Donald Trump's consideration of additional levies on more than $200 billion of goods. "We have heard from a growing number of clients who have looked at a self-directed IRA as a way to better shelter their retirement portfolios from any potential market downturn as a result of a potentially prolonged trade war," stated Adam Bergman, President of the IRA Financial Trust Company.
According to Mr. Bergman, "We have heard from more and more clients that are fearful that after a more than nine-year rally in U.S. stocks, this year's ongoing volatility and trade tensions are causing them to look at other asset classes than equities for their retirement asset portfolios."
IRA Financial Group & IRA Financial Trust Company's self-directed IRA platform allows investors to invest in IRS approved alternative asset self directed IRA investments for as little as a few hundred dollars a year with no account valuation fees. The primary advantage of using a self-directed IRA to make private IRS approved alternative asset investments is that generally all income and gains associated with the IRA investment grow tax-deferred or tax-free in the case of a Roth IRA.
IRA Financial Group is the market's leading provider of self-directed retirement plans. IRA Financial Group has helped thousands of clients take back control over their retirement funds while gaining the ability to invest in almost any type of investment, including real estate, cryptocurrency, and private business investments.
The IRA Financial Trust Company, a self-directed IRA custodian, was founded by Adam Bergman, a partner with the IRA Financial Group. Mr. Bergman is a leading expert on the taxation of retirement funds and has authored multiples articles on how to use a self-directed IRA to buy cryptocurrencies.
Adam Bergman, IRA Financial Group partner, has written seven books the topic of self-directed retirement plans, including, "How to use Retirement Funds to Purchase Cryptocurrencies, "The Checkbook IRA", "Going Solo," Turning Retirement Funds into Start-Up Dreams, Solo 401(k) Plan in a Nutshell, Self-Directed IRA in a Nutshell, and in God We Trust in Roth We Prosper.
To learn more about the IRA Financial Group please visit our website at http://www.irafinancialgroup.com or call 800-472-0646.
Powered by WPeMatico