The Artist's Reception will be held Tuesday, July 24th at NoMo SoHo in lower Manhattan at 9 Crosby Street, from 6:30pm-9:30pm.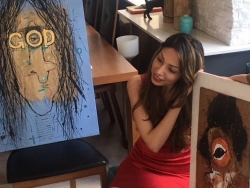 New York, NY, July 24, 2018 — Stevens Art Management is pleased to announce the first U.S. exhibition of Nasrin Sheykhi, one of Iran's foremost visual artists.
"Alien of Extraordinary Ability-The EB-1A Tour," kicks off in New York City, Tuesday, July 24, from 6:30-9:30, at the NOMO SOHO, 9 Crosby Street.
Sheykhi, 29, emigrated from Iran to the United States in October 2017. She is pictured here (between John Lennon and James Brown) in midtown Manhattan. To date, she has received over 40 international art festival awards. She will introduce her impressionistic caricatures of famous people, which blends fine art painting technique with collage on canvas.
The "The EB-1A Tour" borrows its title from the U.S. Homeland Security visa classification, also known as an "Einstein Visa." Joseph Best, the attorney who represented Ms Sheykhi in her three-year immigration struggle, will also be present at the event.
The artists current works on show include musicians John Lennon, Mick Jagger, Janis Joplin, Jimi Hendrix, Keith Richard, Amy Winehouse, James Brown, David Gilmore, and David Bowie. And political figures such as Michael Bloomberg, Donald Trump, Nelson Mandela, Abraham Lincoln and many others.
Stevens Art Management invites you to preview Ms. Shyekhi'ls works here: www.NasrinSheykhiArt.com.
To view the NY Times article: https://www.nytimes.com/2018/07/22/nyregion/nasrin-sheykhi-trump-caricature-visa.html
To RSVP for the event, please email: [email protected]
For all inquiries, including interview requests, please contact Jeff Stevens, Principal, Stevens Art Management at 646-467-1107 or [email protected]
Stevens Art Management is based in midtown Manhattan. Nasrin Sheykhi is the firm's premier artist.
Powered by WPeMatico