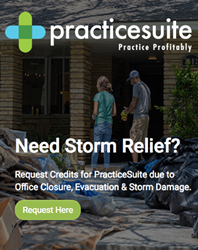 Recent storms have caused devastation to the communities supported by for our medical practice clients. Helping them during this time is an honor.
Silicon Valley, California (PRESS RELEASE JET) September 26, 2017
PracticeSuite, Inc., a medical office software and service company for medical practices, has launched a storm assistance program for clients impacted by hurricanes Harvey and Irma.
"We are greatly concerned by the devastation caused by the recent storms," said Vinod Nair, Founder and CEO of PracticeSuite. "We are supporting our medical practice clients, their staff, and their patients by donating funds to the affected areas and assisting individual medical practices in their recovery efforts."
The PracticeSuite community's first line of response began with donating emergency relief funds delivered through organizations with people on the ground in the storms' impact zones. PracticeSuite has invited its national customer base to join in this response.
The second part of the program targets the ongoing efforts necessary to restore service and patient care to the impacted areas, including waivers for subscription services during times of office closure due to evacuation, staff displacement, and practice restoration resulting from storm damage.
"The waiver portion of the assistance program will provide an immediate and practical benefit to our clients," said Terry Douglas, Vice President of Marketing. "We seek to identify other ways to assist as the recovery efforts continue for our clients in the Caribbean and affected US states."
PracticeSuite urges its clients to submit an assistance request as soon as they are able. All requests can be initiated at the program's webpage and takes only seconds to complete.
About PracticeSuite
Based in the Silicon Valley, California, PracticeSuite is a cloud-based medical office platform that offers a comprehensive suite of patient-to-pay ambulatory care workflow automation software, revenue cycle management services, and secure collaboration platforms. Its client base of more than 43,000 medical professionals include private medical practices, EHR-only companies, PM-only companies, billing-service companies and other large healthcare facilities in all 50 states, Guam, Puerto Rico and Cayman Islands. The platform serves 155 billing specialties and 61 clinical specialties, with four locations and team of 100+ men and women dedicated in service to its customers and partners. For more information about the company, technology, and services, visit http://www.practicesuite.com.
Powered by WPeMatico