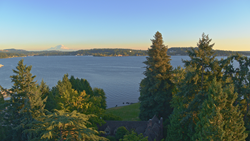 We offer an unparalleled opportunity for a new steward to build a family's legacy in a neighborhood of grand estates. This is the Gold Coast of real estate on Lake Washington. – Becky Gray, Senior Global Real Estate Advisor with RSIR
Seattle, WA (PRESS RELEASE JET) September 25, 2017
Becky Gray, Senior Global Real Estate Advisor with Realogics Sotheby's International Realty(RSIR) has listed a 2.5 acre Medina waterfront estate for $28 million on the Northwest Multiple Listing Service today – currently the most valuable property offered for sale in King County.
    Built in 1929 the 5 bedroom, 4.75 bathroom residence and carriage house comprises 6,070 square feet.
    150 feet of no bank waterfront in a quiet bay with a stunning southerly view of Mt. Rainier.
    Park-like grounds including a clay tennis court with a redwood surround and backboard, a circular entrance driveway to a three-car garage and a guest loft designed by George Suyama.
    Formal gardens with handmade brick herringbone paths, two nearly century-old Sequoia trees and a Cedar-lined pathway that mimics a walk in the forest, yet exists just moments from a world-class city on the rise.
"It's a very important property and this is the first time it's been available in half a century," said Gray. "We offer an unparalleled opportunity for a new steward to build a family's legacy in a neighborhood of grand estates. This is the Gold Coast of real estate on Lake Washington."
Gray points to two recent, record-setting sales in as many months nearby in Medina and West Bellevue, where significant waterfront estates sold for $23.3 million and $21 million, respectively. Observers suggest these new benchmark values are just a sign of the times and remain a relative value compared to other first-tier global gateways.
"Medina's waterfront presents a compelling residential real estate opportunity that offers strong value compared to similar estates along the West Coast, " said Brad Henderson, President and CEO of Sotheby's International Real Estate Canada. "As the Pacific Northwest continues to draw a tide of high net worth global citizens, I have every expectation that the real estate market of Seattle/Bellevue will experience the same continued increase in value as witnessed in Vancouver, BC."
The Medina estate boasts carefully curated grounds known as the Bowman Garden, which is registered at the Smithsonian. The garden has been featured in numerous print magazines and appears in several coffee table books. Five elegant Sea Foam rose trees placed in terra cotta pots line the motor court offering a blush of pink that sets a tone of muted harmony found throughout the property. The gardens are a result of the close collaboration between landscape architect Robert Chittock and the seller. A thoughtful design reflects her travels to England and France, while retaining a quintessentially Pacific Northwest character with stands of Sequoia, Cedar, and regional fruit trees. True to English design, herringbone pathways carry one through the property, linking natural and architectural elements. Often referred to as a 'garden for all seasons' the formal parterre is a palate of white blossoms with perennial blooms that enhance the garden throughout the year. At its center, a reflection pool offers a space for morning meditation or afternoon tea amidst water lilies and ivy swept bricks. Moving deeper within the formal space, a Sundial Garden and clay tennis court are home to a sitting area where a match comes alive with a glass of lemonade beneath a covered arbor.
The most exciting event in the property's history was an installation by Dale Chihuly, who transformed the garden and lakefront with his stunning glass pieces. The grounds were illuminated at night as five charity events brought hundreds of guests to enjoy the art in such a special setting. The owner later remarked, "When you say 'yes', amazing things happen."
"This iconic Medina estate is unique and inherently rare, in that it is located just a mile from one of the fastest-growing cities in the US but could easily be placed in the English countryside," adds Gray. "This is an heirloom in the making and affords a storybook lifestyle like no other property in the region."
Additional property information can be found on a dedicated website at https://www.LakeWashingtonMedinaEstate.com/
###
About Realogics Sotheby's International Realty (http://www.RSIR.com) – Artfully uniting extraordinary homes with extraordinary lives, Realogics Sotheby's International Realty is a leading global sales and marketing brokerage firm in the Pacific Northwest. Recognized by the Puget Sound Business Journal amongst the fastest-growing private companies in Washington State for 2012, 2013, 2014, 2015 and 2016 the boutique real estate firm of 225+ brokers consistently rank among the top producing firms within the markets that it serves with branches in downtown Seattle, Bainbridge Island, Kirkland, Issaquah and Madison Park.
EDITORS NOTE: Property photos, aerials and additional market statistics are available upon request.
Powered by WPeMatico