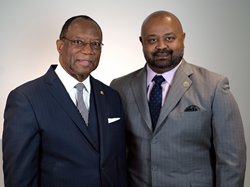 "I've been working in the minority markets my entire career," Slayton said. "Over the last eight years, I've helped Alterra build a platform that's designed to serve the underserved borrowers and increase their access to homeownership. Alterra was built for this."
LAS VEGAS November 29, 2017
Alterra Home Loans, a national lender and one of the largest minority-owned mortgage companies in the U.S., announced today that it will launch a new division named Legacy focused on increasing the homeownership rate of African-Americans in the U.S. The division will be led by Ben Slayton and Keith Webster, 53-year and 20-year industry veterans respectively. Webster, the previous founder of Apex Mortgage Group, brings experience both as a successful leader and as a business owner to the effort, as well as conceiving the idea to start the Legacy Division. He's one of Alterra's most successful Sr. Vice Presidents and oversees branch offices in Georgia, North Carolina and Texas.
Ben Slayton, a 53-year veteran of the mortgage industry who has built several mortgage and mortgage-related companies, was asked to lead the Legacy Division as President to help pioneer it at a national level. Slayton is the first Black Realtor® in the U.S., the first Black owner/broker of a CENTURY 21 franchise, the first Freddie Mac Multifamily Program Plus Seller/Servicer in the U.S., and he's also a member of the Alterra Group, LLC Board of Directors.
The Legacy Division's key focus is to close the disparate homeownership gap that currently exist in the African-American markets. Currently, the African-American homeownership rate is 41%, the lowest of all the minority groups, grossly under the national average of 68%. "Unfortunately, over the last few years the homeownership rate for black families has steeply declined," Webster said. "The opportunity to create wealth is now."
According to an MBA report, in the next few years African-Americans between the ages of 30 and 59 will grow an approximate 1 million new households. The Legacy Division will be at the forefront of that growth, strategically targeting to serve these families. "I've been working in the minority markets my entire career," Slayton said. "Over the last eight years, I've helped Alterra build a platform that's designed to serve the underserved borrowers and increase their access to homeownership. Alterra was built for this."
"This couldn't be a better fit for Alterra," Alterra's President and CEO Jason Madiedo said. "I've worked with Keith for over three years and Ben for more than 20 years, and I know their passion, energy and skill is a strategic and purpose-driven winning combination."
About Alterra Home Loans
Alterra Home Loans is a minority-owned, top U.S. mortgage bank and one of the largest Hispanic-owned mortgage companies in the country. With loan coverage in 29 U.S. states, Alterra strives to represent the underserved in the mortgage industry, specifically serving the diverse markets to help build wealth through homeownership.
Powered by WPeMatico