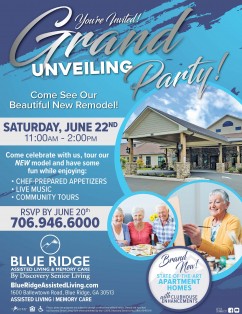 The enhancement project adds 22 luxury residences, improved dining areas, and the latest in resident-focused technologies to the Blue Ridge community.
Press Release – updated: Jun 11, 2019 10:07 EDT
BONITA SPRINGS, Fla., June 11, 2019 – Following a stylish remodel, Blue Ridge Assisted Living and Memory Care will host a Grand Unveiling, offering the public an exciting first look at the designer residences and common areas.
The event is set for Saturday, June 22, from 11:00 a.m. to 2:00 p.m. at Blue Ridge Assisted Living & Memory Care, 1600 Ballewtown Road, Blue Ridge, GA 30513.
As part of the extensive remodel, the community built 22 brand-new, spacious apartment homes, as well as enhanced existing dining and social areas. In concert with the community's award-winning lifestyle programs, the new, more inviting spaces are intended to deliver residents the finest in all-inclusive, senior living in the heart of Blue Ridge, Georgia. Rich in local history and appreciated for its unique amenities, Blue Ridge is a captivating area for seniors to enjoy their retirement years.
"This grand remodel has been a culmination of efforts from many people and we are excited to unveil these world-class renovations to the public," says Richard J. Hutchinson, CEO of Discovery Senior Living, which owns and operates the community. "Today's seniors want a different kind of living option. Our lifestyle programs and resort-style amenities are specifically crafted to meet the growing demand in Blue Ridge."
Blue Ridge Assisted Living and Memory Care is one of 60 communities across the United States owned and operated by Discovery Senior Living, a recognized industry leader in resort-style senior living communities.
About Discovery Senior Living
Discovery Senior Living is a family of companies which includes: Discovery Management Group, Discovery Development Group, Discovery Realty Group, Discovery Marketing Group and Discovery At Home, a Medicare-certified home health care company. With almost three decades of experience, the award-winning management group has been developing, building, marketing and operating upscale, luxury senior-living communities across the United States. With a flourishing portfolio of more than 9,500 existing homes for seniors, Discovery Senior Living has become a recognized industry leader in creating world-class resort-style communities. The corporate office is located at 27599 Riverview Center Blvd Suite 201, Bonita Springs, FL 34134. For more information, please visit www.DiscoverySeniorLiving.com.
Source: Discovery Senior Living
Powered by WPeMatico