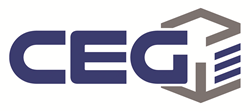 GLASSBORO, N.J. November 16, 2017
Critical Environments Group(CEG), a leading provider of data center and critical environment infrastructure optimization solutions, is pleased to be sponsoring CoreNet Global's upcoming seminar "Data Center Concepts for the Real Estate Professional." In addition, CEG's Director of Data Center Solutions Andrew Graham will be a featured presenter. The November 29th event will begin at 4:30 p.m. at 100 Delawanna Avenue, Building #2 in Clifton, New Jersey.
Event attendees will receive a high-level overview of the New York and New Jersey data center market. Andrew Graham, along with additional panelists, will help them better understand key data center concepts and how they relate to the management of a real estate portfolio. Discussion at the event will also cover site selection considerations that are unique to the data center industry (critical power,airflow), as well as what's typically included in data center lease/licensing agreement structures. The venue houses a Digital Realty data center, and the event will conclude with a tour of the facility.
To register for CoreNet Global's "Data Center Concepts for the Real Estate Profession," visit the event's home page.
About Critical Environments Group
Critical Environments Group (CEG) enables its clients to effectively manage, maintain and optimize their data centers and other IT environments. We're meeting the needs of this rapidly evolving industry by achieving value for channel partners or end users throughout the data center lifecycle. CEG's team of experts is unmatched in its ability to provide intelligent assessments and solutions for achieving readiness, reliability and efficiency today and tomorrow.
CEG is the new, standalone organization that has been created because of DCiM Solution's 2016 acquisition of IIS Group. For more information about CEG and its combined comprehensive offerings, please visit http://www.criticaleg.com
Powered by WPeMatico