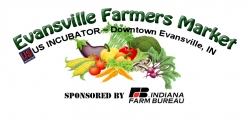 Evansville, IN, June 14, 2019 — Evansville Farmers Market is proud to announce their Grand Opening event Saturday, June 15th. The event will run from 8am to 2pm and will consist of local farm vendors featuring farm fresh fruits, vegetables, honey, local handmade goods, food trucks, fun games, sidewalk chalk art contest, music by 104.1 WIKY and more. Market Manger Jason Gerteisen commented, "We are exited to add the Evansville Farmers Market to our local shopping experience, it will provide another place for our community to find local, healthy foods and items made right here in the Tri-State." Farm markets have been around for years providing their communities with local farm fresh foods and goods. With attention being brought to how healthy eating habits are important to establish at young ages, farmers markets are a great place for kids of all ages to have fun and learn about eating healthy foods. Lacey Wilson, Registered Dietitian at Purdue Extension Office stated, "Visiting your local farmer's market is an opportunity to eat better, healthier, and connect with your community and neighbors, all while grocery shopping. What was once a dreaded chore becomes a fun outing!"
This is the first year of the Evansville Farmers Market, which is being hosted by US Incubator LLC on the north side of their business center located at 815 John St. Evansville, IN. US Incubator initiated this as a community project to help increase public awareness of how easy it is to "Shop Local," and to get to know local food producers, all while providing a place for local vendors to market and grow their businesses.
About US Incubator
US Incubator LLC of Evansville, IN is a private business incubator offering business start-ups a place to grow their ideas into profitable businesses. With all-inclusive leases for office, retail, warehouse and manufacturing spaces, they are outfitted to handle most any type of business start-up. They also have staff available to provide guidance starting your business, consulting and many other business services. US Incubator is the driving force behind over 100 thriving businesses currently located on their campus. Market Realty LLC manages the US Incubator campus.
You can learn more about US Incubator LLC on their website at www.USIncubator.com or the Evansville Farmers Market at www.EvansvilleFarmersMarket.org
Powered by WPeMatico