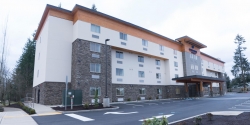 Camas, WA, October 01, 2018 — Fountainhead Commercial Capital today announced that it recently refinanced the $13 million Candlewood Suites Vancouver-Camas hotel located at 2010 SE 192nd Ave. The 83-room extended stay hotel sits on 1.16 acres and is less than 15 minutes from Portland International Airport. An IHG hotel, Candlewood Suites is a midscale extended stay brand.
The hotel bills itself as "not your typical Candlewood Suites hotel." Built to capture the rustic beauty of the Pacific Northwest, the hotel's architecture incorporates natural products from the area. It is located on the coveted east side of Vancouver and near local restaurants, shopping and the area's booming tech industry. The hotel earns a 4.5 "bubble" review average on TripAdvisor and is frequently praised for being convenient, clean, with good service and as a good value.
"We are always excited to refinance projects like this great hotel," said Chris Hurn, CEO of Fountainhead Commercial Capital. "Refinancing brings many options to building owners who can frequently use their proceeds and savings to improve their properties and grow their wealth."
Fountainhead Commercial Capital, a nationwide, nonbank, direct lender specializing in the SBA 504 loan program and low loan-to-value conventional loans, was founded by some of the most experienced and awarded SBA lenders around. The company's FastTrack504 program enables banks, credit unions and other intermediaries to fully outsource SBA 504 and conventional loans for owner-occupied commercial real estate. The company's AI-enabled, Pronto, online loan automation and evaluation tool, can issue commercial real estate loan approvals in less than two hours. More information is available at www.Fountainhead504.com or by calling 800-770-1504.
Editor's Note:
Link to image of property: https://www.dropbox.com/s/1qspvvgpucgniea/candlewood-suites-vancouver-.jpg?dl=0
Powered by WPeMatico