GetSircles Launches Inbound Marketing Campaign for ASAS Real Estate Development. The project includes the setup and implementation of Hubspot, Setup and running of Google Search Ads, Facebook Lead Generation Ads and LinkedIn Ads.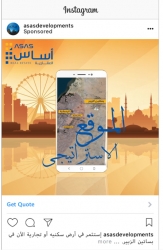 Dubai, United Arab Emirates, July 06, 2019 — The goals of ASAS Real Estate Digital Campaign were primarily awareness building, projects Unique Selling Propositions hammering and Landing page conversion. In order to achieve this this endeavor GetSircles Digital implemented several techniques including:
1- Unify Data Sources Connecting online systems and organizing sources of information helped identify valuable insights about the target audience and better respond to their needs.
2- Measuring What matters
– Across various customer journeys and user stories
– Choose metrics that have direct impact on Bottom line
3- AI for marketing automation
4- Video content
5- Digital PR
6- Omni Channel
7- Programmatic Advertising
The output 300% increase in qualified leads, decrease of 60% in cost per lead.
GeSircles Digital Agency is Google Partner, Salesforce Marketing Cloud Partner and Hubspot Partner.
Dubai Marina Office:
Habtoor Business Tower, level 21, P.O. Box 29805 – Dubai
Telephone: +971504015317 | 00971524283837
Cairo Office:
424 Cairo Business Plaza, North 90th Street North
Building Floor 4 Office 401
Phone: (010)25849222 | (010)24725556
Powered by WPeMatico