Apex PWR will be sponsoring an open house on Friday, March 1, 2019 from 4-8pm to celebrate the grand opening of their new facility. Light food from The Fit Foods will be onsite showcasing their healthy, grab and go meals. There will be awesome giveaways, a raffle for a TON of prizes, and an opportunity to checkout the new facility, meet the Team and connect with the health and fitness community in the area.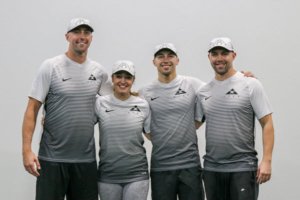 The public is invited to meet the team, view the new state-of-the-art facility and enjoy some tasty food and beverages to celebrate the Grand Opening.
"We invite everyone to stop by and check out the facility, meet the staff, and see how we can help people to take control of their health and become a champion of their body," says CEO, Jeron Mastrud. "We are not offering any training or talks, because we want to allow time for people to get off work and stop by when they can. We're raffling off quite a few items, both services of ours and services of others."
Open House Scheduling is from 4:00 pm to 8:00 pm. ApexPRW is location at
10831 SW Cascade Ave Suite 103, Tigard, OR 97223
Phone (503) 941-0232
Some of the raffle items include:
A DEXA Scan (Value $97)
RMR Test (Value $99)
VO2 Max Test (Value $149)
Gait Analysis (Value $149)
Wellness Checkup (Value $349)
Rose City Futsal individual adult league registration, shirt and hat (Value $160)
4 suite tickets to Portland Thorns (from Tursi's Soccer Store)
Mastrud continues, "We want people to get to know us and our Team and understand that we're here for them and truly want to see them Champion Their Body."
About Apex Performance, Wellness & Rehab
Apex is ready to help you Champion Your Body.
Providing a full spectrum of performance, wellness and rehab offerings, including DEXA Scans, VO2 Max and RMR testing. In addition to the tests for your body, Apex boasts a top notch physical therapy treatment experience sure to alleviate and remedy injury, aches and chronic pain that are bound to happen to almost everyone.
Now accepting health insurance for physical therapy! Apex provides a team oriented atmosphere with an athlete mindset that's results driven to deliver superior performance.
For more information, visit: www.ApexPWR.com
Media Contact
Company Name: Efluential Publishing
Contact Person: Cliff Pelloni
Email: Send Email
Phone: 770-570-9901
Country: United States
Website: http://www.efluentialpublishing.com
Powered by WPeMatico