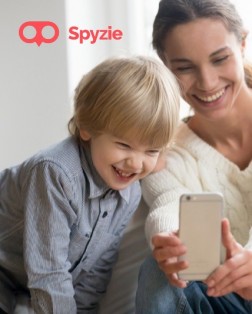 HONG KONG, June 16, 2019 – ​​Spyzie is the most reliable parental control tool for families. It works over a wide area of functionality that not only covers device data but also helps track location, put up geo-fences, track social media activity, online behavior, how kids access a particular app and much more. Its smart device schedule keeps kids under control and study-focused.
It is a piece of great news for all the Spyzie fans that, by the year of 2019, the software crossed 3 million satisfied users. Now with its new release, Spyzie 6.0, it is going to give a more significant breakthrough to all caring and concerned parents by keeping their kids safe.
The Spyzie 6.0 release provides an all-around Android monitoring solution to users who want to keep their family members under their protective umbrella. The new Android monitoring solution offers a reliable platform to the monitoring process with its exclusive technology-driven system.
In contrast to the previous version, parents get better access to social media account and their messages. It has more specific real-time monitoring with a better support system. It provides better security to all the major mobile brands like MIUI, Huawei, OPPO, or others. The instant alert mechanism notifies promptly, in case of any irregular activity. With Spyzie 6.0, parents can keep a watch over kids' device usage and give them counseling for a better future and growth.
Spyzie6.0 has also released three new modified features, which enable parents to have better protection for their kids than before.
Alert: The digitalized world brings more vulnerability due to the easy sharing of critical or personal information. Spyzie 6.0 is a big help in such cases since it will provide an instant alert if any confidential or sensitive data is shared. Hence, no vital information will get into the wrong person's hands, and kids will not get influenced by any cyberbullying activity.
Timeline: The Timeline feature of Spyzie gives an overview of all the actions taken place at a particular time of the day or the entire day. With this fantastic feature, one can check all online activities, such as device usage, applications accessed, etc., at a glance. It assures the user that their family member is not involved in any unwanted activity through their device. Moreover, one can schedule the screen time of their kid's device to optimize their schedule.​
Account Center: Account Center is an expert feature for those who are involved in the monitoring process, such as parents or the employer of an organization. It can help export, send and view all monitored data, including chat or browsing history, tracking location, GPS information and more from the owner's device.
The updated 6.0 version will make significant changes to the lifestyle of people by equipping them with advanced security features, instant monitoring, and messaging services with zero time lapse. Parents could keep track of the current location of their kids. They could check the online behavior of kids, using browsing data history and all social media activity. They could also know how the kids are accessing their mobile at a particular moment, remotely.
Spyzie is a professional monitoring organization that is specialized to provide the best monitoring and tracking solutions for smartphone users. Spyzie 6.0 is the result of its continuous effort towards building better software with a broader area of functionality and giving more comfort to its customers. The new version will keep worried parents and guardians more informed about the activities of their kids and family members. Spyzie6.0 is bound to influence worldwide users with its enhanced capabilities.
Source: Spyzie
Powered by WPeMatico